At the end of the day, we are all just wanderers passing through this world. One of the most loving acts we can undertake is to take someone's hand and help walk them home.
Hope for the Future
In a world often inundated with challenges, the power of doing good stands as a beacon of hope, illuminating the path toward a brighter, more compassionate future.
For the past decade (almost), Work Play Love has been on a remarkable journey, transforming the lives of countless children in Guatemala (and now Mexico) with your help. None of this would have been possible without the unwavering support of our dedicated donors, whose kindness and generosity have been the driving force behind every achievement, every smile, and every transformed future.
Today, as we reflect upon the incredible milestones and transformative moments of the past ten years, we are filled with gratitude. Gratitude for the compassion that knows no bounds, the love that bridges continents, and the belief that every child deserves a chance at a better life. Together, we have rewritten stories, instilled hope, and created opportunities where there were once challenges.
As we celebrate these accomplishments, we acknowledge the immense power of collective goodwill and extend our heartfelt thanks to our donors who have made all of this possible. Your impact reverberates far beyond the walls of the hogares, reaching into the hearts of children and echoing through the communities they touch.
Thank you for being the architects of change, for believing in the potential of every child, and for standing with us as we continue this vital mission of love, compassion, and transformation. Here's to a decade of making a difference and to the bright future that lies ahead, guided by the enduring light of kindness and empathy.
Taking Stock
When we began to take stock of everything your donations have accomplished, we came across the astounding fact that, to date, you have raised over 1.5 million dollars to support orphaned and neglected children in both Guatemala and Mexico! We have said it before, but it bears repeating: your dollars go SO MUCH FARTHER down there, and we are grateful for all of your support!
Here is a short list of some of the items your dontions have helped bring to the children in need: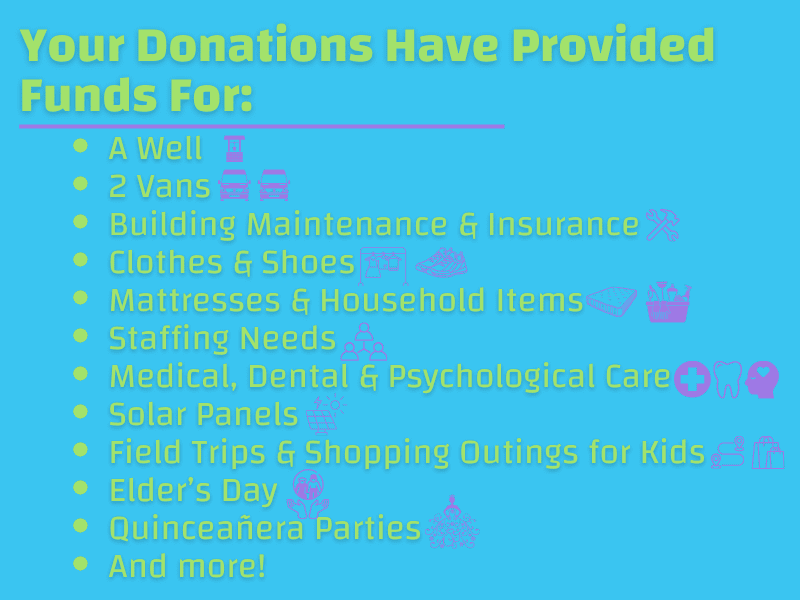 Projects a Plenty
While bringing children in need items that help with their care and education is crucial, part of our mission has always focused on bringing about lasting change in these communities. Sometimes, that means funding educational projects, renovations, or building projects to accommodate the lives of those in need. 
This is a list of only some of the projects that your dollars have helped bring to fruition: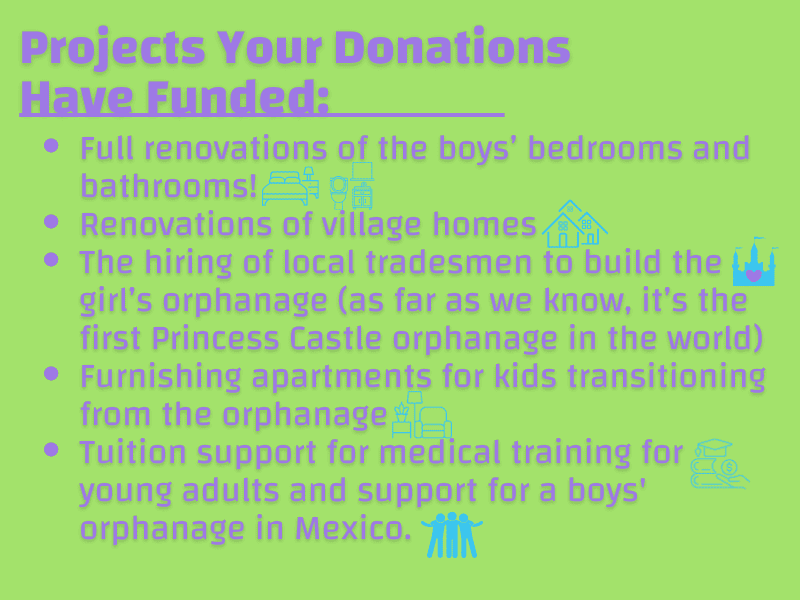 Some of the more notable projects that your donations helped to bring to life are Hope Academy, a girls' school near the Maria Auxiliadora Hogar in Aguacate, and a trade school in addition to the trade school at Hogar Miguel Magone. Those schools are big undertakings, but your dollars have served as part of the solution to the problem of education in this region.
When you bring schools to underserved communities, be they trade schools or traditional educational institutions, you bring the possibility of a break in the cycle of poverty for not only these kids but also for their future families and the local community. That is the kind of change you can take to the bank of goodwill!
While we have certainly put your dollars to work to help fund these institutions, your donations have also gone to help pay for classes that help kids transition out of the hogares and into the real world. English classes are a popular way to support these kids, giving them the possibility of having global access when they decide what they want to do with the rest of their lives.
It Takes a Village
While many of our kids will undoubtedly leave Guatemala and explore what the world has to offer, many will choose to stay around the hogar, often returning to be of service to the kids who come behind them. 
We know it takes a village to raise responsible citizens, so we have invested in the communities where many of our kids will grow up. They have witnessed projects that assisted with needs within the local community, as well as impromptu opportunities to serve, like food drives during COVID-19. 
To become part of our virtual village, you can be a Work Play Love Ambassador! This is a great opportunity for those of us who want to help and support beyond donations. You can participate by sharing our message on social media to get the word out about the work we do. Email Kim@kimberlymelia.com to learn more about how you can become involved as a Work Play Love Ambassador.
Looking Forward
As we stand at the threshold of a new chapter, filled with gratitude for the past and hope for the future, we invite you to join hands with us in continuing this incredible journey of compassion and transformation. Every contribution, no matter how big or small, has the power to change lives. By supporting Work Play Love, you're not just donating; you're investing in a child's potential, in dreams yet to be dreamed, and in a future that holds boundless possibilities.
Your generosity can provide education, healthcare, and, most importantly, the unwavering support these children need to thrive. To be a part of our mission, empower more lives, and contribute to a world where every child knows the warmth of love and the promise of a better tomorrow, please consider donating today.
🌟 Click Here to Donate and Make a Difference Today 🌟
With your help, we can continue to create stories of resilience, empowerment, and love. Together, let's build a future where every child's potential is nurtured, where dreams are encouraged, and where love knows no boundaries. Thank you for being a beacon of hope and for making the world a better place, one act of kindness at a time. Together, we can create a legacy of love that will echo through generations to come.
Stay Tuned
Don't forget to stay tuned for more details about new and emerging projects, fundraisers, and ways that you can help support our efforts on behalf of these amazing kids. Sign up to get our LoveLetters delivered straight to your inbox, follow us on social media, or join us for a Voluntour trip to the hogar in Guatemala and watch the goodness unfolding for yourself!